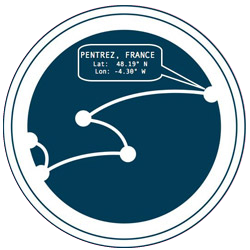 Latitude: 48.19° N, Longitude: -4.30° W
(Pentrez, France)
It was in Pentrez, France, located in the rustic Bretagne region of my family's homeland, where I developed an appreciation for wine. Every Sunday our extended family would gather for lunch. Lili would make bread, Jacques would bring fish fresh from the morning's catch, Mamie would harvest veggies from the garden, and Grand-père would emerge from the basement with a sandy bottle of wine. You had to smell and taste every part of the meal which began my incredible journey into wine.
—Serena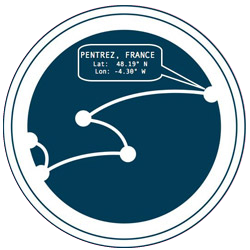 Latitude: 44.99° N, Longitude: -93.15° W
(St. Paul, Minnesota)
Most of us can mark the time and place when where our fascination with wine first overcame us. Mine came while living in St. Paul. Floating in a small kayak on a lake in northern Wisconsin with a calm breeze rocking my little vessel, the sun was bouncing off the rolling water and I was surrounded by the North Woods. I opened a bottle of 1998 Alsace Riesling. Everything but the wine, with its cacophony of citrus blossom, pear, black tea and petrol aromas and flavors instantly disappeared. I was in the wine. How could a seemingly light and simple wine possess such an explosive combination of flavors and aromas that my remarkable surroundings simply faded into its shadow. It was that moment that somehow so engaged my senses and intellect that I embarked on a journey to learn all I could about wine, how it was made and how I might one day put such remarkable qualities in a bottle.
—Alan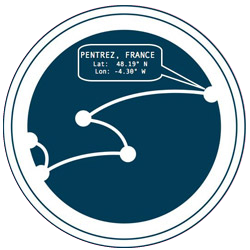 Latitude: 38.89° N, Longitude: -77.03° W
(Washington, DC)
It was in Washington, DC where I had my first taste of California wine. Sitting at a restaurant on the harbor, surrounded by friends we opened a bottle of Shafer Cabernet. I was mesmerized by the complexity of the wine and how blackberry, currant, and dark cherry flavors intermingled with tobacco and leather. I was mesmerized and eager to learn more about California wines. Eventually, I made my way to California and one of the first wines I made was a Napa Cab.
—Serena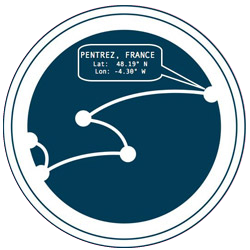 Latitude: 37.76° N, Longitude: -122.40° W
(San Francisco, CA)
We met in San Francisco, where both of us journeyed following the desire to engage our lives in the pursuit of winemaking. Alan moved there to make wine at Crushpad after producing his first wines in Dry Creek Valley. At Crushpad Alan made his first Pinot Noir to be sold under his Cellar Rat Cellars label. Serena too was drawn to this groundbreaking urban winery where she met Alan and he helped her produce her first wines. It was in this setting while working together, sharing wine while sitting on stoops and talking about our hopes and future, that our lives came together and our dreams for Cartograph took form.
—Alan & Serena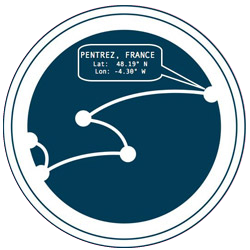 Latitude: 38.62° N, Longitude: -122.86° W
(Healdsburg, CA)
It is here, in Healdsburg, where our journey currently places us, and where we pursue our desire to turn our own journey into wines that will inspire others to appreciate a time and place with wine. For us, there is no better place to pursue producing great Pinot Noir than Healdsburg in Sonoma County. For Alan it is a return to the location where he first made wine, while for Serena the small town and fertile backyard of our new home recalls her family home in France. Most important, Healdsburg is close to the great Pinot Noir growing regions of California's North Coast where we can carefully apply hands-on efforts through every phase of the grapes' maturation and ultimately turn them into the place-defining wines we both strive to produce.
—Alan & Serena